The Synagogue page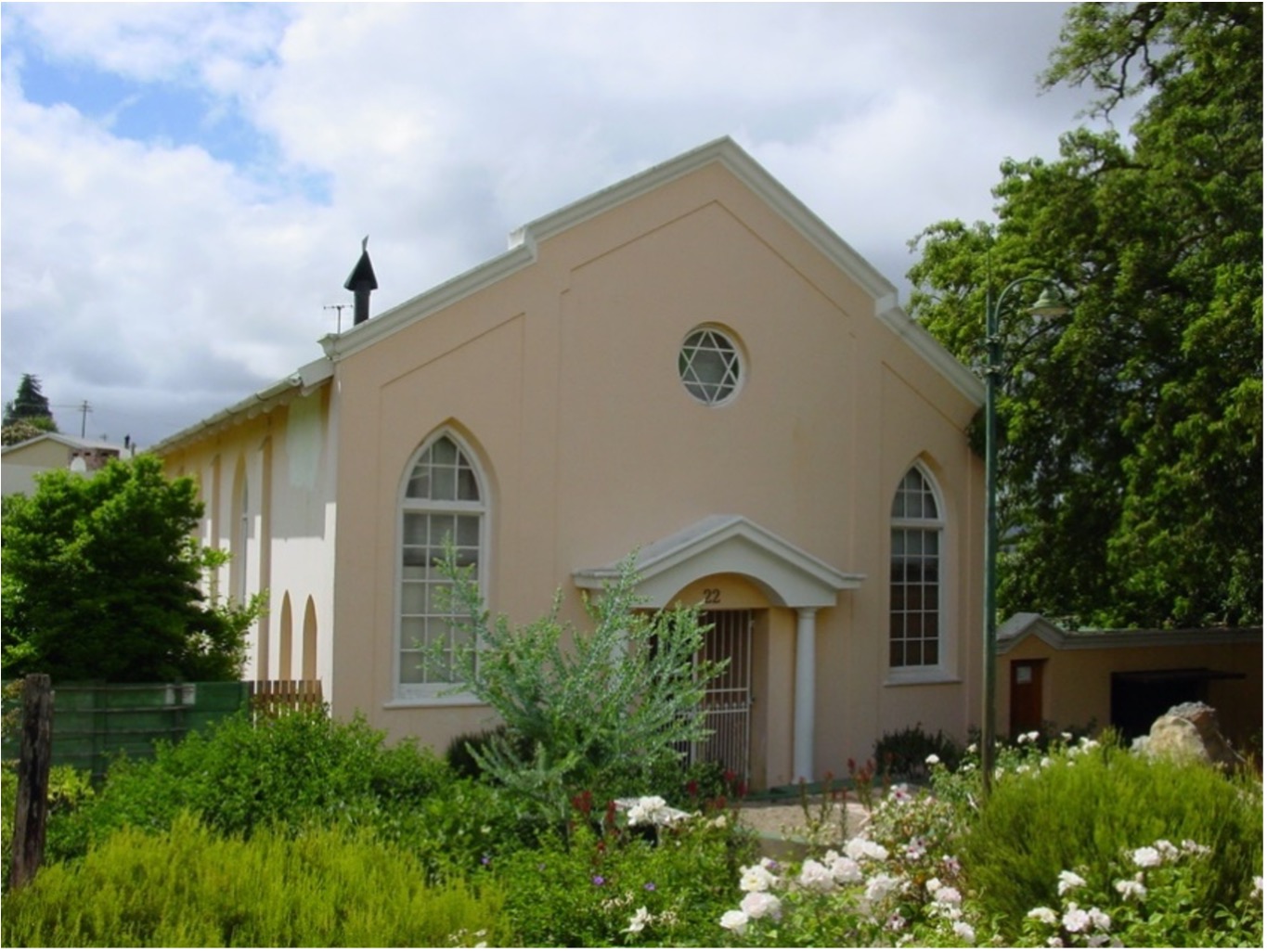 From the 1880s the Jews in Caledon had formed a minyan under Solomon Gordon (an ostrich feather dealer) and celebrated the High Holydays together. Rev N Cohen, Abel Hyman, and Rev I Hyman were ministers there before 1926.
In 1914, HM Grodzinski was the congregation president and Rev N Cohen from Montagu acted as mohel and shochet. In 1918, 18 members attended services.
By 1925 they had enough sufficient committed religious leadership and funds to buy land for a synagogue. This was erected in 1928.
By 1933, they were holding weekly services and celebrating all chagim. At its peak, in the 1930s, 40 families were members of the community. They managed to retain ministers until 1945.
During the Second World War, there was a virtual boycott of Jewish shops, with slogans on school blackboards, and the synagogue was vandalised.
The SAJBD provided Caledon with a subsidy to assist families who could not afford the cost of Jewish education. Its Country Communities Subcommittee, with the help of Rabbi Duschinsky, tried to assist it with a minister for the High Holy Days and a minister to visit them once a week, and he suggested that the SAJBD help by arranging cultural events to retain the interest and involvement of the community.
In 1955 the SAJBD loaned a Sefer Torah to the Caledon Hebrew Congregation. The SAJBD had established a Sifrei Torah Fund to assist country communities to obtain Sifrei Torah and later gave Caledon a Torah from the defunct Ladismith Hebrew Congregation.
In 1957, the synagogue windows were smashed. By 1970, there was no longer a minyan, and in 1982, the Caledon Hebrew Congregation ceased to exist.
In 1983, their Sifrei Torah were given on loan to the Camps Bay Hebrew Congregation.
In 1994, the SAJBD's Country Communities Subcommittee met with members of the Caledon community to adopt a new constitution (they had lost their original one) and approve the sale of the synagogue to an Afrikaans man who wished to use it as a private home. The money was put into the Caledon Hebrew Congregation Bursary Fund for Jewish university undergraduates.