The Synagogue page
By 1900 Jacob Adamstein had established the Laingsburg Hebrew Congregation with 25 members. Three years later they had acquired land for a cemetery.
In 1903 they built and opened a synagogue, which the Adamstein brothers equipped with a gate and railing, Israel Zacks with fencing material, Abraham Groll with a memorial tablet and Mr Guik with siddurim and bibles. The opening of the synagogue was quite an occasion! Rev AP Bender came up from Cape Town to inaugurate it. A general holiday was declared in Laingsburg and all the leading citizens attended the event. (There seems to be no extant photograph of the synagogue.)
In 1908, their first minister, Rev AM Jacobs, was appointed. His duties included slaughtering and kashering meat for the community, and running a cheder every afternoon for their children.
In 1919 they asked the local school board to excuse Jewish children from religious classes.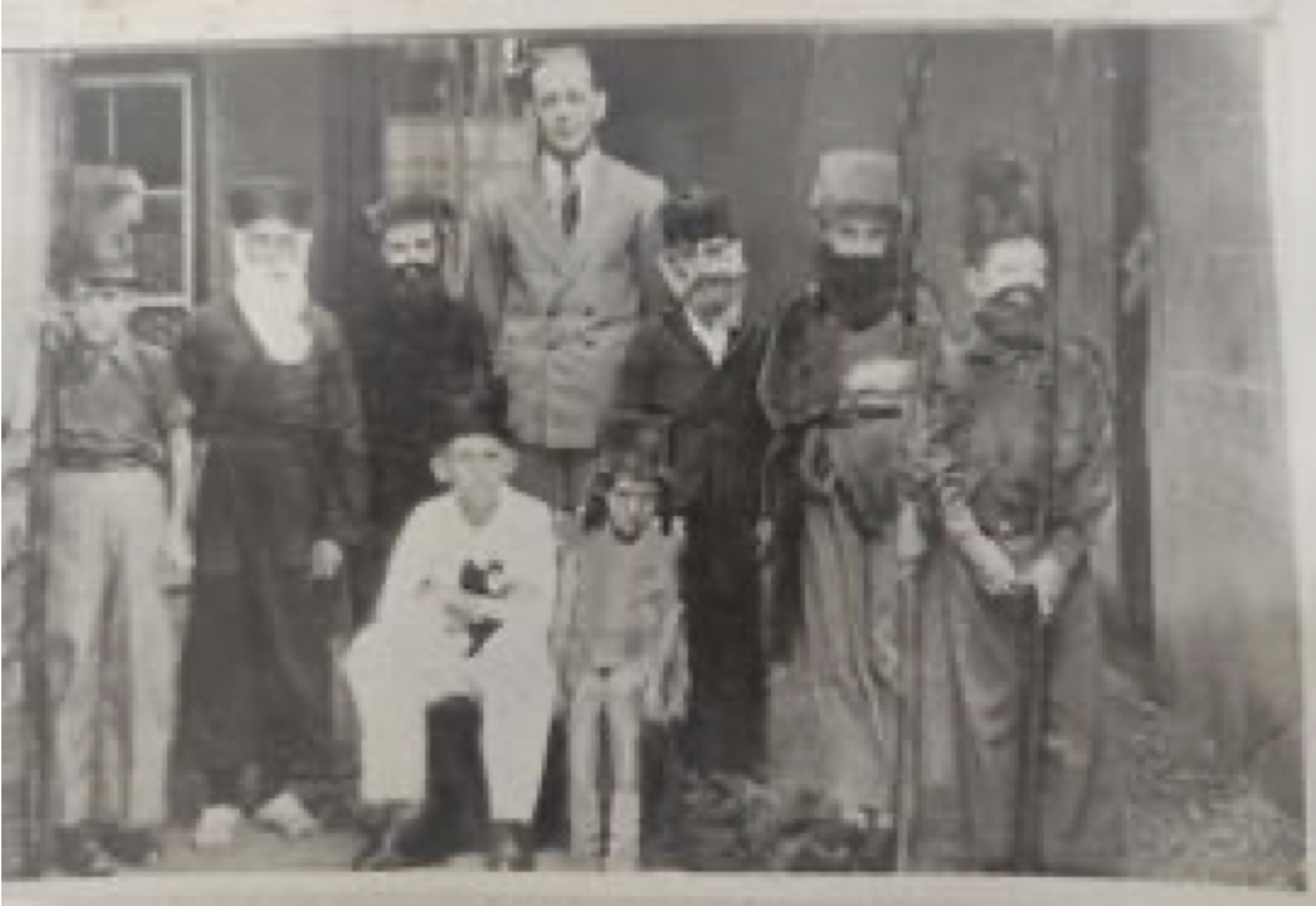 Photo: South African Jewish Museum (SAJM) archives
In this picture the children of the Laingsburg Cheder are kitted out for their Purim play with Rev Gulis of Woodstock.
A Financial Struggle
It was always a struggle to keep the synagogue going financially. One of the big problems was supplying water to the synagogue and the mikveh. The Jewish Board of Deputies was asked to help, and by 1919 they had scraped together sufficient funds to repair the windmill that supplied their water. Two years later they bought a new windmill. The area had little rain but was prone to flash floods if rains fell in the river catchment areas.
In 1920 they had to restore the flood-damaged cemetery. In 1922 they approached the Standard Bank for an overdraft and in 1930, H Solomon donated money for a water tank to supply the mikveh.
In 1946, though the congregation had considerably reduced, they placed an advertisement in The Zionist Record of Friday November 15, 1946, saying: LAINGSBURG HEBREW CONGREGATION WANTED SHOCHET, BAAL TEFILLAH AND TEACHER. Applications are invited for the above post. Salary £30 per month plus free house (married man preferred). Apply, giving particulars of qualifications to: THE HON. PRESIDENT, Laingsburg Hebrew Congregation, Box 55, Laingsburg, Cape Town.
This seems to have been unsuccessful as by 1947 only Abraham Groll, the chairman, and Louis Helman were attending services on Friday evenings. There was no longer a minyan or a minister.
By 1953, even though there were only five Jewish families living there, they still regarded themselves as a 'congregation'.
In 1962, however, the municipality expropriated the shul building. This is a strange phrase – did it mean that they could not pay he rates or look after the building – or what?
Issie Pinshaw, the Cape Board secretary, came to Laingsburg to collect its four Sifrei Torah and other religious artefacts. The Sifrei Torah were given to the Herzlia School, and Somerset West and Schoonder Street Congregations. The money from the expropriation was given to the Board, with some of the funds reserved for the cemetery upkeep.
On 25 January 1981, after a cloudburst to the north-east, a roaring wall of water nearly 6 metres high hit Laingsburg and swept away everything in its path. Within hours the whole town was under water. Ninety percent of the houses were swept away, including the synagogue. (Read about the flood on the Articles page.)