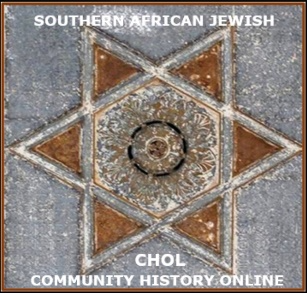 Community History On-Line Presentations
On this page we list the presentations made by the CHOL community, with links to where you can read about or see a video, etc.
See each session again by clicking the individual links below (the most recent is at the top)
Clicking on the title cell of any column sorts the table by that column (clicking again reverses the sort order).
No.
Date
Session
Topics
Speakers
24
2023: Dec 5
1:00 pm SA time
Music #8
From Kroonstad to Victor Hugo via Fleet Street: the musical journey of Herbert Kretzmer
Danielle Lockwood (Chichester)
23
2023: Dec 5
12:00 pm SA time
Music #7
The story of the Johannesburg Jewish Male Choir
Evelyn Green (Johannesburg)
22
2023: Nov 28
7:00 pm SA time
Music #6
King Kong – the all-black musical and its all-Jewish production team, 1959
Mark Wade and Alan Swerdlow (Johannesburg)
21
2023: Nov 28
6:00 pm SA time
Music #5
Collecting Jewish Music at (DOMUS) Stellenbosch University
Dr Santie de Jongh, Special Collections Librarian (Stellenbosch)
20
2023: Nov 21
Music #4
The musical Rabinowitz family in South Africa – from cantors to the concert stage
Eli Rabinowitz (Perth, Australia)
19
2023: Nov 21
Music #3
At my Wits end and other beginnings – a woman composer of international acclaim
Professor Jeanne Zaidel-Rudolph (Johannesburg)
18
2023: Nov 14
Music #2
How does a girl from Kimberley get to meet the Queen – a journey in Jewish music
Geraldine Auerbach MBE (London)
17
2023: Nov 14
Music #1
The King of Violinists in the Land of Gold – Heifetz in South Africa, 1932
Dr Michael Brittan (Denver, Colorado)
16
2023: Sep 3
Stories #6
Dealing with deafness, discovering a family member, personal search for a grave, apartheid SA
Beulah Gross / Gail Loon Lustig, Solly Kaplinski, David Bass, Raphael Shevelev / Karine Schomer
15
2023: Jul 11
Seminar #5
Parow and Durbanville communities, SA Jewish soldiers in WWII, bibliography of SA Jewry, Malmesbury website
Richard Mendelsohn, Vicky Scher, Naomi Schamroth Rapeport, Veronica Belling, Steve Albert
14
2023: Apr 16
Stories #5
Psychiatric illness, political experiences in apartheid SA, unloved family member
Sheila Swartzman, Karine Schomer, Harry Friedland
13
2023: Mar 14
Seminar #4/2
Creating a Community Website - Example: Stellenbosch
Geraldine Auerbach (chair), Dave Bloom (Zimbabwe), Eli Rabinowitz (many sites), Gary Sussman (Vryburg), Bramie Lenhoff (Upington), Katie Garrun (Kaplan Centre), Gail Loon Lustig (Bellville), Gerald Potash (Stellenbosch)
12
2023: Mar 08
Seminar #4/1
The small Jewish communities of Brandfort, Ceres, Stellenbosch and Beaufort West
Faisia Shaskolsky, Jos Kahn, Gerald Potash and Natie Finkelstein
11
2023: Feb 19
Stories #4
Miners' strike, death, poetry, military, and bagels
David Kaplan, Fonda Dubb, Sheila Swartzman, Harris Green, Raphael Shevelev / Gail Lustig
10
2023: Jan 22
Stories #3
A tribute to Anthony Fagin, who died suddenly in 2022, by friends and family who read his story Vredefort
9
2022: Oct 24
Stories #2
Personal essay, narration, memoir
Stanley Loon, Glenda Levitt, Harry Friedland, Basil Porter, Anthony Fagin
8
2022: Sep 21
Seminar #3
New CHOL website, Share your Stories, Jewish-Afrikaner relations, SA Jewish cookbooks, German refugees newsletter, SA Kehilalinks
Geraldine Auerbach, Gail Loon Lustig, Ivan Kapelus, Gavin Beinart-Smollan, David Lewin, Eli Rabinowitz
7
2022: Aug 22
Stories #1
Personal memoirs, true stories, fiction
Solly Kaplinski, Sheila Swartzman, Lynette Karp, Glenda Levitt, Richelle Shem-Tov
6
2022: Apr 13
Seminar #2/3
Wits med grads, GPs in N Subs Cape Town, Old Jo'burg
Geraldine Auerbach, Gail Loon Lustig, Marc Latilla
5
2022: Apr 6
Seminar #2/2
Upington, SA-SIG, Small communities, Film archives
Bramie Lenhoff, Roy Ogus, Rabbi Moshe Silberhaft, Sean O'Sullivan
4
2022: Mar 30
Seminar #2/1
Pros and cons, UJW, Starting a family archive
Gwynne Schrire, Karen Kallman, Leila Bloch
3
2021: Aug 11
Seminar #1/3
Zimbabwe, Virtual cemeteries, Kaplan Centre archive
Dave Bloom, Eric Berger, Katie Garrun
2
2021: Aug 4
Seminar #1/2
Vryburg, Muizenberg, Woodstock/Salt River
Gary Sussman, Rabbi Ryan Newfield, J-P Burke
1
2021: Jul 28
Seminar #1/1
Kimberley, JewishGen, SA Jewish Museum archives
Geraldine Auerbach, Eli Rabinowitz, Leila Bloch
CHOL International Conferences
Hosted by the South African Jewish Museum and the UCT Kaplan Centre, nearly 100 people from all over the world signed up to tune in to CHOL Zoom International Conferences. Each conference was presented in three, weekly sessions. Each session included three or four speakers. They are stored on the Jewish Museum YouTube channel.
Share Your Stories
See more about this project on the Stories page.