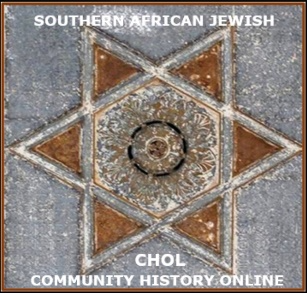 Links to some Southern African Jewish communities, where somebody is making a web presence
On this page you can click on a community to see what material has been assembled for each one listed, and see how you can navigate around the sites. Some are well structured so that there is a logical way to navigate them and find the information you are looking for. Others have posted interesting material in a fairly random fashion. If you have information to contribute about any of the listed communities please send it to info@chol.website and we will pass it on to the 'driver' of each community site.
If you are thinking of making a web presence for your community
Consensus seems to say that you might like to assemble your text and pictures under the following headings. For assistance, please contact us at info@chol.website. We will be happy to get you started.
Homepage – welcome / who you are / where the community is, etc.
Timeline – from when Jews started to populate the area
People – an A-Z directory of families or individuals linking to their own page if you have a family story
Activities - here you can write about anniversaries, picnics weddings, bar- and bat-mitzvahs, theatricals, etc.
Synagogue – the story of where and when Jews gathered for prayer
Cemeteries – the grounds where they are buried
Articles – printed and written articles about your town
Updates – your communication with residents and ex-pats, if any
Images – galleries of pictures if you have
Contact – how people can get in touch with you
Please join the CHOL interactive email list to hear about meetings, workshops and other activities of CHOL – Community History On-Line (join by sending an email to listserv@jiscmail.ac.uk. Leave the subject line BLANK and in the message say: SUBSCRIBE CHOL followed by your First name and your Last name only (please delete any automatic signatures). Or contact info@chol.website and we will add you to the list.